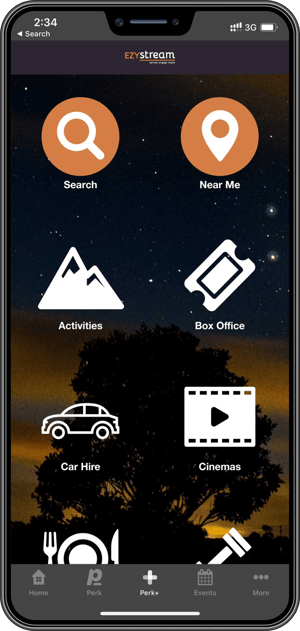 We are really excited...
For the past year our partner, CSC buying Group have been supplying a Staff Benefits App solution to business in New Zealand, incorporating their Perk and Perk+ products.
Now EzyStream in Australia is pleased to announce that we can provide the Perk and Perk+ products, incorporating offers from Frequent Values by Entertainment™, to businesses, organisations and community groups in Australia too!
Have you been looking for a way to differentiate your work place and provide tangible benefits to your employees?
Do you want a platform that provides real value to both your organisation and your teams?
While staff tools and portals normally focus on the mundane tasks of logging requests for leave, updating details or making expense claims, EzyStream provides an App based platform that is focused on allowing your organisation to connect and engage with you staff. All while allowing critical business processes to still be 'plugged in'. All the while delivering greater loyalty and increasing engagement with your staff via Perk+.
So, whether your organisation is looking for a simple benefits App, providing vouchers to activities and food outlets, or a full communication hub, EzyStream can help.
But wait, there's more!
Not only does this mean we can now provide new Staff benefits Apps to businesses throughout Australia, but our existing Australian customers: churches, clubs, community groups and not for profits also have the opportunity to include Perk+ in their Apps.
So, whether providing a benefit to community members, or as a means of fundraising, Perk+ is available now to help support your organisation.
In New Zealand and don't want to miss out on the perks? An existing EzyChurch or EzyConnect Customer and want to activate Perk or Perk+ in your app? EzyStream's existing agreements with CSC Buying Group NZ mean you too can benefit. Again, contact your EzyStream Account Manager or email sales@ezystream.com now to find out more.
Get in touch with your EzyStream Account Manager or email sales@ezystream.com now to find out more, today.